Despite the world of technology, business cards are still important. You need one if you want to help get the word out about your business and impress prospects, especially if a lot of your marketing deals with meeting prospects in their domain, which is where one tends to be most vulnerable. But you can't just have business cards. They have to be perfect business cards, ones that people look at and decide you're the one. Anyone can make a business card, but not everyone can create something that sells your products or services. Not everyone will find they can create something that is unique and stands out from all the rest. It's time for you to rise about the mediocre cards out there and create something that your business will be proud of using. Here are the top steps to creating perfect business cards for your company.
Know the whole point of your business cards
This isn't just a piece of paper that you hand out in the street. This is a method of marketing your business. If you just hand out anything, people either aren't going to bother looking or it will just go straight into the bin. To be able to create perfect business cards, you need to determine the whole point. What do you want it to do? Does it need to tell people who you are and your real name? Maybe it just needs an email address and the position you hold. Some people will include as much detail as possible. The details you put on will depend on the reason for handing out cards. Job seekers have started using cards with their resumes, and you could benefit in that way. Rather than having a current position, you'd include a few sets of skills that you have. After all, putting a former employer or title down would make it seem like you still have a job. By highlighting skills, you make it clear that you are the perfect person for a job role. If you're a sole trader, having your name and business name will be beneficial. You'll also need a contact number and email address. Make it easy for potential clients or customers to know why they would need you and how they can get in touch. Take some time to think about what you want your business card to do. Write it all down on a big piece of paper, and then you can go from there.
Perfect business cards are clean and professional.
Many make the mistake of making their business cards too flashy. They want images, color and lots of details to help people identify them. This is the wrong way to do it. Remember your cards are only small. They should be able to fit into a wallet, and be the same size as a bank card. Think about how much information can be clearly viewed on a bank card. You want to remove all the clutter, and only have the basic, necessary information to meet your purpose of your perfect business cards. There's no need for lots of pictures. People will understand what you offer by looking at your business name and title. If you own a business, you may want to put a slogan to make it easier if your business niche is a little out of the ordinary or new.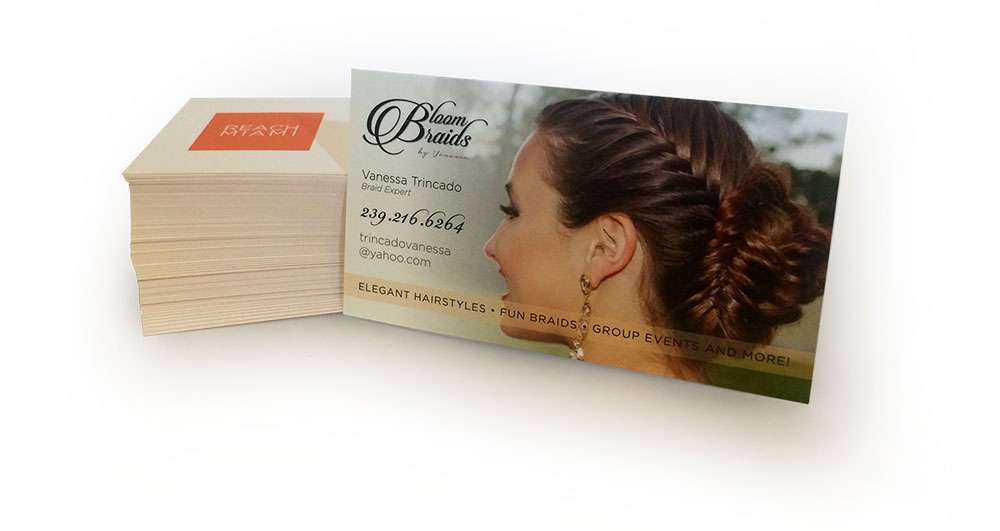 Looking professional is not just about the printed information on the card, but the way it looks. It needs to remain clean and the print should be smudge free. If you have any that have been damaged, you need to get rid of them. People won't take you seriously if you're half-heartedly looking after your cards. It's also worth having your cards in the same place at all times. When it comes to handing them out, you can just reach straight for them. Searching for a card, makes you look forgetful and unreliable. Watch out for where you place other people's cards. Putting them in the same place as yours is a recipe for disaster. You run the risk of handing out someone else's card instead of your own! It's worth investing in a case for your cards, especially if you are going to marketing and networking events. This shows off another side of your professionalism, and makes it look like you're ready for business. They'll also be easy to grab when someone says they want your card.
The text and font will need to keep the business and the card sizes in mind. While Size 12 is usually much easier to read, it won't be possible to put all the details on in that font size. However, never go below 6. Sizes 7 and 8 tend to be good for addresses and phone information, and that's the smallest you should really consider. Any smaller than six and it will be difficult for people even without corrected lenses to read. You don't want them to have to really concentrate on your card and get a headache! They're not going to call you. Smaller text also encourages people to add more information than they really need to. The company or business name should be the largest text on the card. With an address at 7, you'll want your title at the same and your name just a point higher. Always use a font that is easy to read but also up to date. Get rid of the Arial and Times New Roman. Some of the better options include Glasgow, Myriad Pro, Karat and Helvetica. Crazy fonts and those that look like old fashioned writer are much harder to read. People don't want to spend time deciphering your card. They just want the basic information now. While the sizes quoted will help you in most cases, there are some fonts that are traditionally smaller. When this is the case, you'll need to look at the card and judge it for yourself. If something is hard to read due to being so small, then you'll need to increase the size.
Use high quality card stock and choose the right coating
There are lots of companies offering to create business cards at a low cost. One thing you want to consider is the quality of the card they are printing on. One thing to look for when creating your perfect business cards is that the stock you use is sturdy, while looking and feeling good. If you've watched American Psycho, you'll remember the "Perfect Business Cards" scene where three different guys compare each other's business cards to see who's is the most perfect, until Bale's character almost has a heart attack when he finds out someone else's business cards are superior to his because of their thickness and coating choice. Here are the most common choices for business card thickness that are affordable:
14 PT: This thickness is probably the most common, not very impressive. It's thin and it becomes a bit thicker when you add coating to it like UV or Silk
16 PT: This thickness is nicer, still not as thick as I like them, when uncoated, but once coated matte or UV they take on a whole new dimension. If you add Silk lamination this card becomes an 18 PT card, making it nice, smooth and just the right thickness.
Bateman: New card. What do you think?
Allen: Whoa-ho, very nice. Look at that.
Bateman: Picked them up from the printer's yesterday.
Van Patten: Good coloring.
Bateman: That's 'Bone'. And the lettering is something called 'Silian Rail'.
Van Patten: It's very cool, Bateman…but that's nothing. Look at this. (Van Patten removes his card from its holder)
Bryce: That is really nice.
Van Patten: 'Eggshell', with 'Ramalian' type. What do you think?
Bateman: …Nice.
Bryce: Jesus. That is really super. How'd a nitwit like you get so tasteful?
Bateman [internal monologue]: I can't believe that Bryce prefers Van Patten's card to mine.
Bryce: But wait, you ain't seen nothing yet. (Bryce removes his card from its holder)
Bryce: Raised lettering, 'Pale Nimbus'. White.
Bateman: Impressive. Very nice. …Let's see Paul Allen's card.
(Bryce slowly reveals Paul Allen's card)
Bateman [internal monologue]: Look at that subtle off-white coloring. The tasteful thickness of it. Oh my God; It even has a watermark. (Bateman seethes)
Carruthers: Something wrong? …Patrick? You're sweating.
At the same time, you'll need to consider color. A plain white business card sends the message that you are crisp and clean. The problem is that it can look clinical and be difficult to keep all stains off it. A slightly yellowed color can actually make it easier to read the text and look that little bit more professional. Depending on the type of business, you'll want to avoid all the wacky colors. These can be fun for artistic businesses, but they are just too hard to read and can come across childish. When it comes to text, stick to black; just plain black. One lighter backgrounds it is much easier to read and certainly has the air of skilled and qualified.
Weird titles and the accuracy of your cards information
Remember that email address you created when you were younger? You were having a little fun and wanted to do something silly with your friends. Well HotMiamiGuy8, now is not the time to have that fun email address on there. Nor is it the time to think about funny titles or silly names. Perfect business cards show just how professional you are. Anything that looks out of the ordinary in a corporate world will be laughed at, and people won't trust you not to be the joker of the class, so to speak. The email address you use is the biggest problem on business cards. Not only do you want to get rid of those fun and weird addresses from your teenage years, you'll also want to look out for email addresses that send of bad vibes. For example, as a company, you'll want to invest in a business email address and not a generic free Gmail one. Gmail addresses can often be viewed with weariness from potential customers and clients. You don't look serious enough. If you are willing to spend money on your own domain name and email address, you'll be viewed as more reliable when it comes to the workplace. That being said, if you're a business hunter or sold trader, a Gmail email address can be suitable. Just make sure the name before the @ is sensible and connected to you personally. The best thing to do is use your name, whether full or initial and surname. Avoid numbers where possible, and keep away from email addresses that are difficult to remember.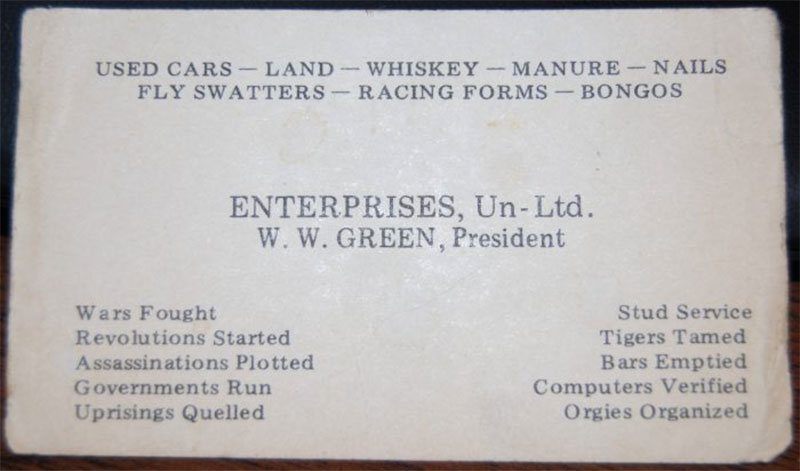 There is nothing worse than a card with inaccurate information. When this happens, you'll just end up with nobody calling. They won't spend time searching for the right details, and will move onto someone who does have the correct information. Check all the information on the cards before you get the printed. When you receive them, double check it all again. It is possible for a problem to arise in between. As mentioned before, if you're looking for a job, you'll want to check your current business card. Does it have anything about your former employer or position? The information is inaccurate and redundant in many cases, and you'll give out the wrong impression before you even get the chance of an interview. There's nothing wrong with getting a close friend or family member to look over your cards. Ask them if anything looks amiss or wrong, and find out if they can read the information easily. When changes need to be made, you'll need to get more printed out. Scribbling over numbers to change them or correcting spellings will only make you look unprofessional, especially when it comes to company cards. This is why checking online before you order any for print is important to avoid wasting money.
Most business cards are one sided. They have all the information right there, so there's no need to turn it around and check. However, this really does depend on the purpose of the card. There is now a move into offering cards that create discount offers too. This is something you'll want to consider when you're coming up with ideas for your perfect business cards. If it's just a single-purpose use, don't bother with anything on the other side. A professionally looking business card is crisp, clean and clear. Anyone can create a basic one, but the above tips will help you create one that sends the perfect message to your customers and clients.
In the end, you can never have enough business cards
Running out of cards could cost you a fortune. You never know if that person who didn't get a card was the one person who would spend hundreds of dollars on your business. People tend to learn this the hard way. They want to give someone their contact information, only to realize they have run out and have to write their name and number on a piece of scrap paper. Guess where that scrap paper goes? In the bin! The number you will need will depend on the event. Many recommend that 50 is the magic number, especially when you're not at a specific event. However, it's worth thinking about the number of people who will be at a marketing event. If an event is open to 2,000 people, having enough cards for 25% will be a good guide. Not everyone will be interested in your business and want your card, and some people will be from the same company so only need the one card between them to pass onto the right person. You also don't have the problem of finding somewhere to store all 2,000 cards!
On our next article on business cards we're going to detail the step by step process we take, here at ReachMiami, to create edge painted business cards, which are the latest craze in the printing industry. We're going to be creating an entire tutorial on this subject, so you can do them yourselves or just take pointers to know what to expect from your business card provider, from how they're made to how much they should cost. These cards are sure to make your competitors envious and your customers jaws drop as you take one step closer to perfection with your perfect business cards. If you want to be reminded to visit us when we make that content available, we invite you to join our mailing list below.
References: Wikiquote.org
Image Credits: Business card design by ReachMiami for CIN Handy Services, Bloom Braids